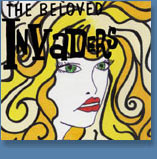 The Beloved Invaders
Kaikoura
2001
The Beloved Invaders play instrumental surf, featuring both originals and covers of classic and modern surf tunes. Now if you're thinking beach music, consider all that is surf: Dick Dale's classic "Misirlou" from Pulp Fiction, the reverb-drenched guitar sound of "Pipeline", the Latin groove of "Sway", the jazzy sounds of Duke Ellington's "Caravan", the desert theme from "Lawrence of Arabia", the spy classics "Hawaii Five-O" and "The Fugitive", the slow waltz of "Sleepwalk", and the eastern-European slam-dance of "Dark Eyes".... The Invaders play all of this and more, as well as their original compositions, which alternate between driving and jazzy, haunting and exotic.
All of it is music that will make you move, all done in retro-fashion - the real deal.
The Beloved Invaders:
Bob Cannistraro lead guitar
J. Scott Johnson bass guitar
Clay Bielman drums
1.
Mr. Moto
2. Wild Night
3.
Besame Mucho
.
4. The Savage
5.
Surfey
6. Hot Summer
7.
Kaikoura
8.
Sway
9. Journey to the Stars
10.
Harlem Nocturne
11.
TR6
12. Sophie
http://rapidshare.com/files/68190434/Belived_Invaders_-_Kaikoura.rar